"If we didn't do what we loved, we wouldn't exist." This line is the prime example of the fact that motivation can be found even in the most remote places. Wondering where we took this line from? None other than Creed II.
This is how influential and iconic movies have been for the people. Movies have always been a great source of joy, motivation, and in some cases, tears for the users. Tons of movies are produced every year in different parts of the globe.
But entertainment comes at a price. Most people prefer to enjoy a movie on a single screen with something to eat, while others look for solitude. In case you are the latter kind, thankfully for you, there are tons of different websites on the internet that offer TV shows and movies for free.
If you are on the hunt for a website like that, join the club as today's blog will focus on some of the best legal and illegal websites available on the internet that can be used to download the content of your choice without much fuss.
Disclaimer: The content offered in this blog is for the sole purpose of educating the audience about the different websites that offer Free movies for streaming and downloading purposes. We do not, in any way, promote or support the use of such websites that offer the distribution of copyrighted content and advise you to steer clear of such sites unless you want to end up in legal trouble.
Table Content
Top Sites to Download Movies for free (Legal Edition)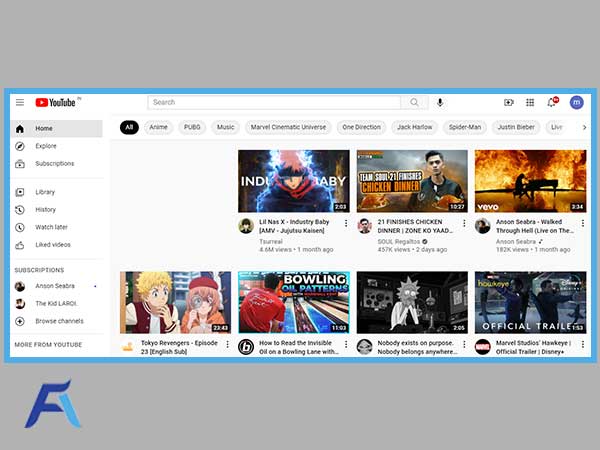 What better way to start the proceedings with YouTube? Up to this date, YouTube remains the biggest and most popular place for online videos on the internet. This streaming platform has slowly made its way into exploring new revenue streams and original programming.
Most of the videos on this platform are available for rent. What's astonishing about this site is that the website offers more than 350 feature films for free streaming. Try not to confuse this site with YouTube TV, which is a live streaming service.
All of the features that YouTube offers make it a pretty exciting place for people who don't want to spend money on OTT platforms such as HULU and Netflix. The only downside of the platform is that there are no latest movies available for free.
Number 2 on this list comes with the tagline that says "universal access to all knowledge". The platform has been named as the savior by the users since it allows them to access blocked sites, open offline websites, and also the option of seeing how a site has evolved with time.
But it wasn't always like this. Almost half a decade ago, this platform only offered direct links, but downloading movies never went according to plan due to the huge file sizes. Courtesy of the torrent links, now one can easily download and enjoy tons of different movies without spending anything at all. What makes it even better is the regular addition of content which helps in the overall growth of the catalog, which already seems pretty impressive.
Users also get the option of creating a virtual library card for free that allows them to access forums, the option of uploading videos, bookmarking the content of their choice, etc.
Being a legit site, it has plenty to offer but there are a couple of downsides. The platform only hosts only classic movies and no direct downloading links are available here.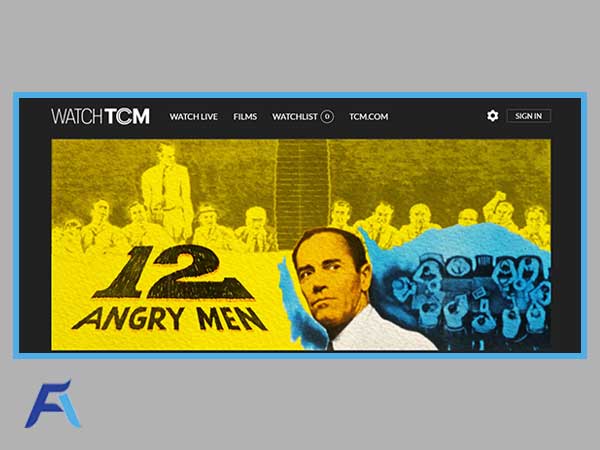 This is a prominent platform in the United States of America when it comes to streaming movies and TV shows for free. Unlike the other two platforms, users can access the content of their choice with the help of a cable subscription.
Tons of different movie studios and streaming players have collaborated with cable networks to offer users an amazing collection of movies on the internet. Tuner Classic Movies, commonly known as Watch TCM has the best collection of media.
Users get the option of watching an unlimited number of movies either with a satellite package or cable. The wide availability of dedicated apps for mobile and desktop devices, be it Android, IOS, and Apple TV makes TCM stand out even more.
Apart from movies and TV shows, the platform also offers articles, information about artists, short movies, and a list of recommended movies. The sad part is that it is only available in the USA and users need to select their TV service provider before they begin streaming movies online for free.
Number 4 comes off as one of the most popular free movie streaming sites in the Indian subcontinent. When it comes to offering Indian/Hindi content, paid services like Netflix and HULU have a lot of catching up to do since Hotstar is the people's favorite as it also offers the option of downloading movies for free so the users can enjoy them offline.
Tons of movie premiers are also hosted here but one needs to pay for the subscription to stream the premier. The user interface of Hotstar is pretty neat and the overall layout is pretty impressive as well.
This platform is also a great place for sports fans as the site offers several sports streaming channels. Sadly, for the users, the site is only available for free in India and has very little to offer when it comes to international content.
In at number 5 is a gem that has been concealed from the outer world for quite a while now. It was only until recently when the world was introduced to stellar movies like Parasite, Minari, Burning, and The Handmaiden that this platform came into the limelight.
The Korean Film Archive is an official channel on YouTube that has become the new home of cinephiles. It has more than 200 classic Korean movies, dating as early as 1930. With the popularity of K-stars at an all-time high, this channel is the perfect place for users to explore the brilliant works of Korean cinema.
All of the movies are available with English subtitles so users do not need to worry about the language barrier. If you love to learn and explore different cultures via entertainment, then this is a must-visit platform for you.
The only drawback of this site is that it only hosts Korean movies and the content available here is pretty limited.
The brilliant free movies streaming website of Le Cinema Club was relaunched recently this year with a redesigned user interface and layout. Ever since the initial launch of the site in 2015, the platform has always aimed to promote new talent and also to offer exposure to underrated gems that do not get the attention that they deserve.
The platform has been famous for streaming one new movie every week and also welcomes any sort of contributions from filmmakers. Films of all sorts of lengths are available on this site, although the majority of the content here is of a "short-film" nature.
Some of the most notable streams of this site in the past include the likes of Clair Denis, Ultra Rare, and Keep in for Yourself. According to sources, Diddly Squat by Frank Lebon is streaming right now on this platform.
The platform can be accessed from anywhere across the globe but there are a couple of shortcomings. First, the site only hosts one movie every week, and no popular movies are available here.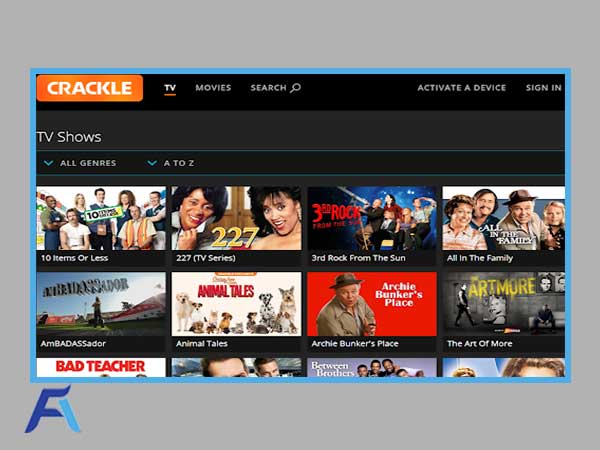 Crackle, a platform owned by Sony is rapidly rising through the ranks and comes in at number 7 on our list. Anything related to Sony must possess tons of movies for the users. One simply needs to sign up to create a watchlist and the site will recommend you content based on your priorities and watch history.
The site offers tons of popular websites and TV shows that are usually unavailable on other free movie download sites. It is the perfect place for users if they are willing to watch a few ads and commercials now and then.
Chartbusters such as Sports Jeopardy, Seinfeld, Firefly, and many others. Another major advantage of this platform is that the site is available for both Android and IOS users in the form of an application. One must keep in mind that some of the content available here may be blocked in your region due to license restrictions, but that can be fixed with the use of a simple VPN.
Apart from the geo-restrictions and the advertisements, one would say that it is a pretty perfect platform for movie connoisseurs.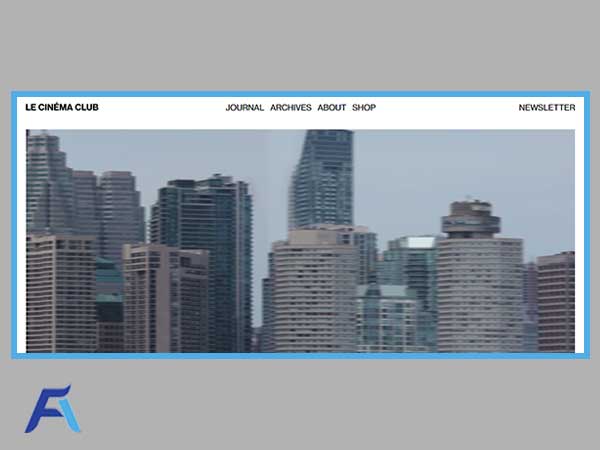 Heavily regarded as one of the best platforms on the internet, Pluto TV is the closest that one can get to mimicking a traditional TV experience. This brilliant free movie streaming platform offers more than 75 TV channels from a wide range of categories.
These channels are divided into different sections such as news, TV shows, movies, tech, sports, along with other popular sections. The platform also has an official application that is compatible with almost every popular platform along with the option of a dedicated movie channel for the users who like to enjoy content on the go.
Even though the site is accessible everywhere, users should keep in mind that some of the content is only available in the States, due to which users are recommended to use a VPN or a proxy site for a better experience.
The users may have to face frequent advertisements and commercials and no latest movies are available on Pluto TV.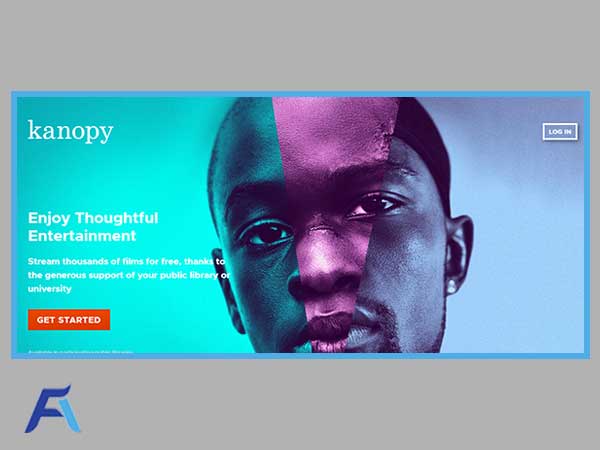 If one has to compile a list of legit sites to watch movies for free, they can't even dare to leave Kanopy out of that list. This brilliant platform has managed to create a free and ingenious collection of content by partnering with different libraries and universities from all over the globe.
The platform announced last year that it was partnering with the Oscar-winning studio A24. The only thing that hinders the growth of this site is the limitation on the number of movies that a user can stream per month.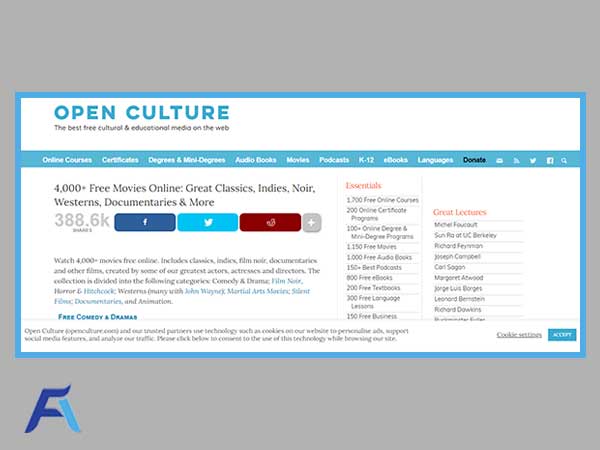 As we are halfway down this list, we present you with Open Culture, a website where users can watch movies online for free in high-quality from different parts of the globe. Not only free movies, but the site also hosts free online courses and free language lessons.
Ever since its inception in 2006, the site has had 6 main sections, namely, movies, online courses, e-books, textbooks, audiobooks, and languages. As of now, the movie section is home to more than 1,150 movies that also include several Charlie Chaplin and Oscar-winning movies.
In a nutshell, it is a pretty decent site that is accessible everywhere. Although the site doesn't offer newly released movies.
With a versatile homepage that offers free TV shows, movies, feature films, and stand-up comedy, MoviesFoundOnline is a paradise in disguise for people in search of entertainment online. This platform has something for everyone, be it cult classics for cinema fans, short films for art enthusiasts, and documentaries for nerds.
Tons of public domains of this site are available for the users. The best part about this site is that it doesn't host any movies or any other media, which is also why it works actively to delete any movies that may lead to copyright issues.
Apart from the occasional ads, the site has plenty of content to offer to the users.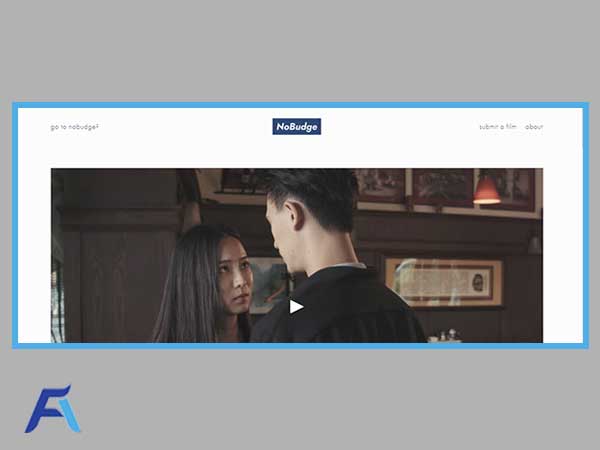 Imagine making a website on your own that hosts amazing content and is for free at the same time? Seems difficult, right? Well, Kentucker Audley didn't think so. The indie actor and filmmaker made a website on its own and it is solely dedicated to short movies and feature films.
The majority of the content available on this site hasn't been reviewed or seen by critics, which is why users will need to stream them without any sort of assistance or reviews. But worry not since all of the content is handpicked by Audley, so the chances of stepping on a bad movie are slim.
Apart from this, not much is known about this site. Users may have to face frequent pop-up ads and there are no new movies on NoBudge.
Number 13 is owned by the widely popular firm of Screen Media Ventures. It is home to a wide range of original content and a lot of public domains are available on the internet. The platform is compatible with every device and on top of that, users do not need to spend any money to access the content.
Tons of different categories such as drama, action, horror, comedy, etc. These sections make it easy for the users to select and download the movie of their choice from this free downloading website.
The only thing that users complain about is that some content is geo-restricted and there are no new releases available on PopcornFlix.
A subscription-based platform, HULU is one of the best, if not the best services out there. Users can opt for a 30-day trial account. If you like what is on the table, you can subscribe to the premium package of HULU, on a yearly, half-yearly, or monthly basis.
The platform has loads of vintage TV shows as well, apart from movies, making binge-watching sessions better. The site also has an application for both IOS and Android users. The use of a VPN is recommended since HULU isn't available in all parts of the world.
The only sad part is that users have to buy a premium subscription to download movies for offline use.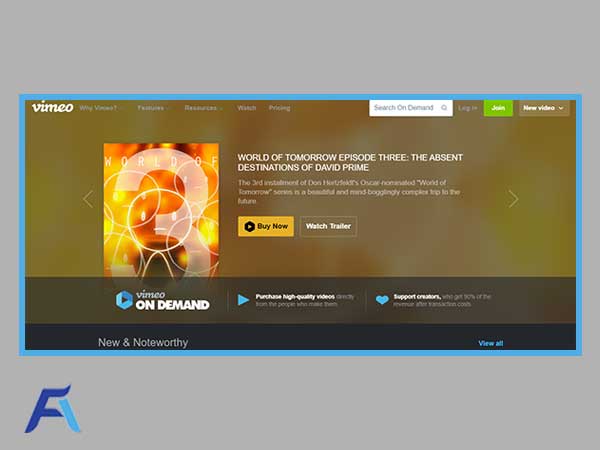 Vimeo is the reflection of YouTube. Apart from offering a great collection of movies of high quality, it also comes with a pretty clean layout, making it the perfect place for fans to entertain themselves with documentaries and vintage movies.
Tons of great short movies are also available on Vimeo. What makes this site even more impressive is the on-demand feature where users can pay to watch a specific movie or TV show.
Even though it has so much to offer, the site is often criticized for not having the latest movies along with the fact that most of the content here is user-uploaded.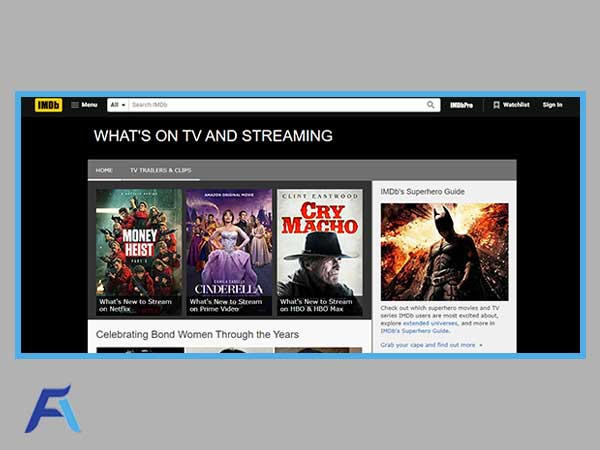 Who doesn't know about IMDB TV? The most trusted reviewer on the web also has a great collection of movies. IMDB is owned by none other than Amazon. All Fire TV owners in the United States have free access to all of the content available here.
The developers have made sure that new content gets added to the platform every couple of months. Alexa can also be used by users to launch the online streaming section of Freedive. The user interface needs more work as a newbie might feel dazed when trying to find content.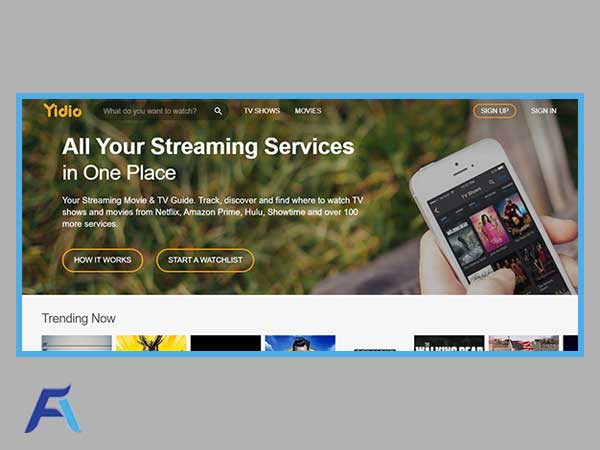 Your Internet Video. Don't worry, we are not spamming you. This is the full name of the widely popular platform of Yidio. This brilliant website is home to more than a million TV shows and movies from different parts of the globe.
Users also get the option of making their playlist here simply by signing up. This feature often comes in pretty handy since users can make a list of all their preferred shows and movies to watch later.
The filters available here are second to none, making it quite simple for the users to categorize all the content of their choice in one place. Users can sort content via popularity, genre, and date along with additional filters such as R, PG-13, PG, G, NR, and NC-17 rating.
Even though the site has so much to offer, users still complain about the lack of subtitles with the content and the broken search feature that shows paid movies under the free section.
Torrent fans know this one. Number 18 is heavily regarded as one of the best torrent platforms in the world, only behind the infamous Pirate Bay. The official website of YTS, YIFY Movies offers a great collection of movies of excellent quality.
Apart from classic movies, the platform also offers all the latest releases for free. The search feature allows the users to search content following different filters such as quality, genre, rating, year, and language.
As of now, this platform has more than 32,000 movies. Keep in mind that the movies are available as torrents and not as MP4 files. The only thing that may ruin the user experience is the frequent occurrence of ads.
A website that is fairly new among the greats but is already making a name for itself with its layout and great services. Users can not only watch the movies online for free, but they also get the option of downloading them in high-quality for offline use.
The user interface of this site is out of this world, and we mean that literally. The developers have done a great job in making sure that everything is neatly displayed and segregated into different sections such as featured, top viewed today, top rating, Top IMDB, and top viewed today. Sadly, it is only accessible to people living in the US.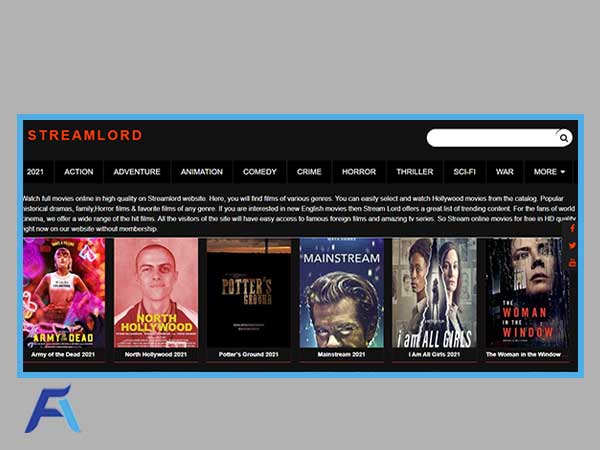 This is it. The last legal website on our list. It is a great place for movie fans as all of the latest movies are available right at the homepage of this site. All of the users get early access to tons of different TV shows and movies that can be sorted, courtesy of the different sections that are also available on the homepage.
Users do not need to go through any sort of registration or sign up to access all of the content available here. All in all, it is a great place for people who are exploring the internet for legit movie streaming platforms.
These are some of the best legal sites on the internet that can be used to stream and download tons of different movies and TV shows. Now that we know about some of the best legal sites for downloading movies, let us now take a look at some of the sites that aren't exactly legal but can be used to download movies for free.
Top Sites to Download Movies for free (Illegal Edition)
The uncrowned king of torrenting platforms on the internet. Pirate Bay is undoubtedly the most popular torrent website ever since its inception way back in 2003. This Swedish-based platform is also one of the oldest, if not the oldest torrenting platforms to exist.
Every now and then, the website has gone through tough times that saw the shut down of domains, but it always managed to come out victorious under a new domain or web address.
In 2014, the headquarters of this torrenting giant was raided by authorities, further leading to the shutdown of it along with many other sites. But a year later, to the surprise of no one, the site rose through the ashes again, proving that taking it down was nearly not as easy as the authorities thought.
The database of this site consists of millions of files and nowadays, a skull system is used by the developers of the site to identify files that are uploaded by verified and trusted users.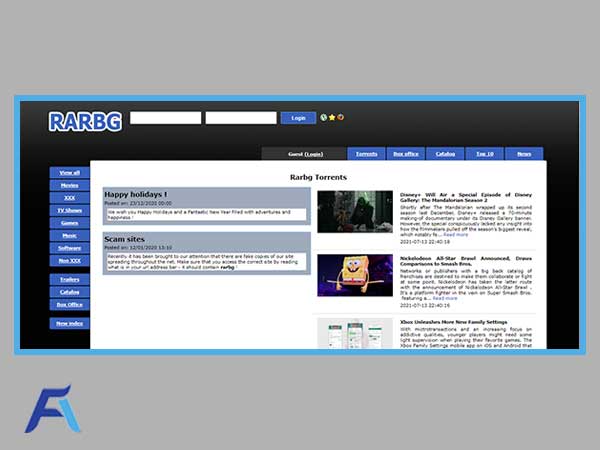 This popular torrenting site was launched over a decade ago in 2008 and as of now, it operates under a couple of different domains. Not only does this site offer high-quality links for movies and TV shows, but it also has other files such as games and music.
In its early days, the site was forced to shut down for almost a week by none other than BREIN (the anti-piracy organization of the Netherlands) because of copyright issues. This is one of the major reasons why this torrenting site has been blocked in several countries such as Finland, England, UAE, Portugal, Denmark, Ireland, Australia, and India.
More than 300,000 users visit this site every day to access high-quality torrents. No new users can register on this site as of now but they can still access it to download the content of their choice.
Number 3 on our list specializes in offering users high-quality magnet links and torrent files that can be used for peer-2-peer, commonly known as P2P file sharing. This platform was ranked as the 3rd most popular torrent site on the internet.
The website saw a boost in the rankings after the infamous Kickass Torrents was shut down. The site underwent a drastic change that saw the addition of new features and functions. The search platform of google has banned this platform from showing up on the results page, meaning that the site will never show up when one searches for it on Google search.
This ban was put in due to a complaint filed in 2015 by Feelgood Entertainment. The original domain of this site was changed in 2015 from ".pl" to ".to". The reason behind this was to dodge the block as the site can be accessed by manually entering its address in the search bar of a web browser.
Read Also: Unblock 1337X Using 1337x Proxy/Mirror Sites & Alternatives
All in all, it is a promising platform that is on the rise.
Torrentz2 is the unofficial clone site of the OG Torrentz, which was shut down 5 years ago. Initially, the platform was home to more than 60 million torrent files. The original platform of Torrentz was no more than a meta-search engine for BitTorrent.
The site was operated by a user who went by the name Flippy. Flippy simply indexed high-quality torrent files from tons of popular torrent sites on the web. The OG site also compiled different trackers for each torrent that wasn't present in the .torrent file originally which further allowed other trackers to pick up the load in case the default tracker went down.
In the year 2012, this brilliant platform was ranked as the 2nd most popular platform on the internet, second to Pirate Bay. Torrentz is a literal copy of the original website, be it in terms of content or the user interface.
Read Also: 20 Extratorrent Proxy Sites & Alternatives
As we are on the half-line, number 5 on our list acts as a search engine, unlike other platforms that act as a host. The platform was launched in 2009 and has no files available on the homepage, instead, it helps users to find torrent link files that are available on other sites.
The user interface is pretty easy to use and learn. Most of the torrents available here are from reliable trackers.
What makes it stand out is that it is family-friendly and users cannot search or submit any pornographic or adult-related content. It also makes up for a great alternative in case your preferred site is down.
The site also has a couple of downsides just like the low seed numbers and the poor torrent health, which remains a pressing concern for the users.
If you are looking to download movies and TV shows from a wide range of content in high quality, this is where you need to be. Apart from this, the platform also offers tons of anime series, e-books, and music files of great quality.
A clean user interface with neatly categorized sections makes the site attractive for newbies. Apart from this, it also comes with a list of the top 100 most popular torrents to help users find the best possible content. Some of the content available here is pretty hard for the users to find on other trackers.
More than 5 million files are available on Torlock. The only thing that may annoy the users is the frequent occurrence of ads and pop-ups that appear whenever a user clicks on anything.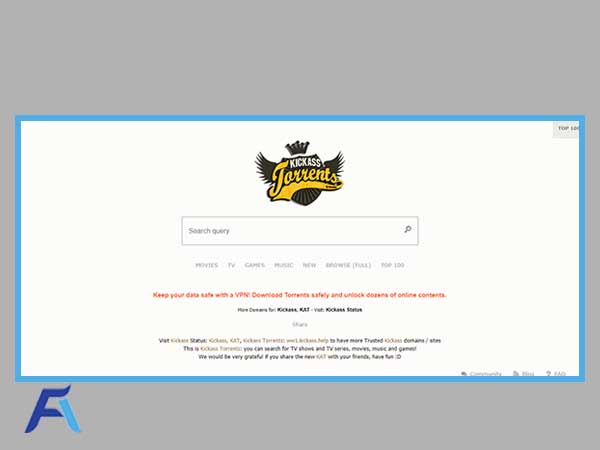 KAT. The current version of this site is a replica of the original one and it was created by some of the ex-staff members of Kickass Torrents. it resembles the parent site in everything, be it looks or features.
The site came online in 2008 and within 6 years, it became the most popular torrent site on the planet in terms of Alexa rankings. You can only imagine the kind of popularity this site must have had if it overtook Pirate Bay.
The platform changed several domain names and continued to do so for more than 6 months to avoid the risk of getting caught by authorities. Sadly, it was banned from Google search results at MPAA's request and was also banned in tons of different regions a year later.
The site ultimately went offline in 2016, however, former staff members revived the site under a new address in a couple of months, as we mentioned earlier.
Number 8 on our list is solely dedicated to offering movies. It comes with a great layout along with a wide collection of great movie torrents to choose from, making it the perfect place for cinema enthusiasts.
The platform gained huge popularity majorly due to the high-quality torrents that can be used to download the latest TV shows and movies with relative ease. As we mentioned earlier, the site has nothing but movies on it, so in case you are looking for something else, try to browse some other platform.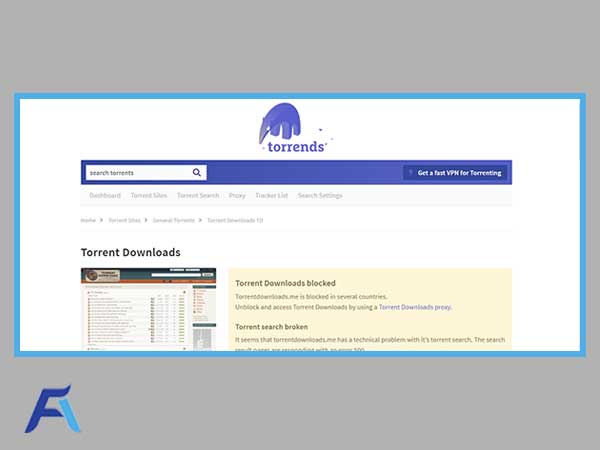 Torrent downloads is home to more than 16 million torrent files that offer almost everything. From games, movies to e-books and files, it has something for everyone. The platform has a pretty straightforward user interface which makes it easy for the users to navigate through the different sections of the site.
The site also offers an advanced search feature that helps the users to filter their searches to find the content of their choice in no time. Users also get the option of rating files and leaving feedback via comments to help the developers of the site lower down the number of fakes from the platform.
Overall, it is a pretty well-rounded platform with loads of choices to select from.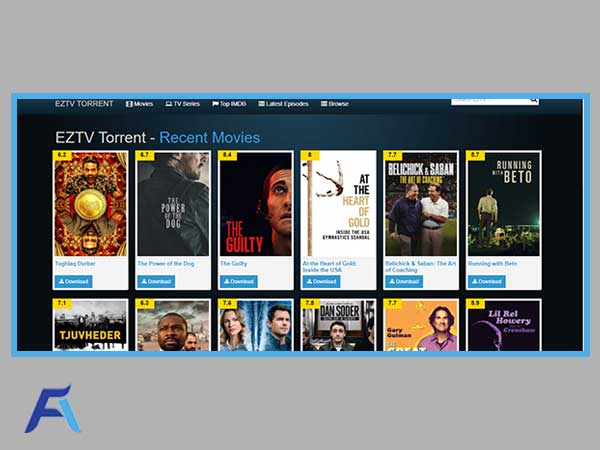 Last but not least. At number 10 is EZTV. A brilliant platform that offers the latest episodes of all the popular TV shows. It is deemed by many as the best torrenting place to download TV shows. The site came online in 2005 and it was a smooth sail up until 2015 when the infamous "hostile takeover" took place.
Ever since then, the site has recovered and is now being managed by new people. Although the user interface may seem old-fashioned, it can give other platforms' interfaces a run for their money.
These are some of the best websites that can be used to download movies without having to pay a single dime.
Let us now take a look at some of the most commonly asked questions on the internet when it comes to downloading movies from such websites.
Read Also: Jio Rockers 2021- Download Tamil, Telugu, Bollywood Movies
FAQs
Q.1 How can I tell if a movie website is legal or not?
Ans 1- There are no particular tests or tasks that one can perform to know whether or not the site that you are downloading content from is legal or not. Although we have taken the liberty to present you with both the legal and illegal websites so you don't have to carry out the work. Also, some of the red flags of an illegal site include offering newly released movies and if the site is trying to earn money with the promotion of VPN services along with tons of advertisements.
Q.2 Do I need to use a suitable VPN to download a movie for free?
Ans 2- No, there is no need for a VPN if you are sure that you are accessing a legal site for downloading movies and TV shows.
Q.3 Can I download movies and shows from Netflix legally?
Ans 3- It is quite possible to download content legally from Netflix, provided that you have an active subscription. Users can download content on both IOS and Android devices with the use of this active subscription. Although there is no application for downloading movies and TV shows on Mac.
Q.4 Where can I download movies for free?
Ans 4- There are tons of different websites that one can use to download movies for free. Some of the most popular sites include the likes of YIFY Movies, Crackle TV, Pluto TV, and many others. You can go through the list mentioned above to know more.
Conclusion
Movies have always been a great way to blow some steam off after a long day at work. Not everyone is willing to buy an OTT subscription just for the sake of entertainment, which is precisely why we have come up with some of the best legal and illegal sites that can be accessed to download movies for free of cost.
We hope that this blog has everything that you were seeking. Up until next time, peace out.