There are a wide range of web browsers out there to choose from but until and unless you own a Apple device that has its own browser 'Safari,' odds are that everyone is probably using Google Chrome only, isn't it? In fact, recent statistics estimated that a whopping 70.5% of users across various devices were using Chrome and predominantly, its desktop usage share grew by 23% in the first quarter of 2020 and why not!
Google Chrome has so many features in its bag to offer. Basically, it works best of all but in spite of this notion, almost everyone knows the fact that Google Chrome is a "Memory Hog." It uses a lot of memory on the Computer/Laptop/PC and makes it run slow. To be precise, if you use Google Chrome on a desktop-device that has less RAM then, unfortunately, it will make that particular device much slower than the usual speed.
Reasons 'Why Does Google Chrome Use So Much Memory'?
Well, you cannot completely blame Google Chrome for consuming high memory usage. In fact, you've to check yourself for what activities you're doing on your Chrome browser. If you've a habit of taking a lot of work from your browser like you're using it simultaneously for watching multiple high-definition videos, rich web pages, web apps, add-ons extensions or plugins then, let us tell you that, you're likely to experience this "Chrome Using Too Much Memory" issue with your browser.
Basically, Chrome distributes every tab and extension in processes and if many are being active at once then, each of them consumes a lot of memory separately leading to not only higher RAM usage but also it sometimes brings everything to a halt making you exit your browser and restart everything.
So, if you don't consider to fix this "High RAM memory Usage by Google Chrome" issue that usually occurs because you are making it do so by opening a lot of tabs then, it will make your PC to run slow and at the same time will also throw frequent errors related to memory like sbox_fatal_memory_exceeded or xbox fatal memory exceeded. Therefore, you're bound to clear the excess RAM usages by Chrome to not get those errors in the future.
However, if you have no idea about "How to Reduce High Memory Usage in Google Chrome?" and have been searching for its related solutions to curb Google Chrome's gluttonous appetite as you might not afford to buy more RAM for your computer unnecessarily then, you're reading the right blog.
Effective Solutions to Prevent Chrome from Using Excessive RAM
| | |
| --- | --- |
| Solution 1: | Force Close Programs that Uses Excessive RAM |
| Solution 2: | Disable Plugins and Extensions |
| Solution 3: | Add Chrome Tab Management Extensions |
| Solution 4: | Enable Hardware (GPU) Acceleration |
| Solution 5: | Create a New User Profile for Google Chrome |
| Solution 6: | Run an Antivirus for Scan |
[Note: These above solutions are tried and tested. Thus, works on Windows 7, 8/8.1, and Windows 10 with all the updates.]
Now, let's discuss these listed solutions in detail to have a better understanding of how effectively they'll be able to help you from getting rid of this annoying "Chrome Memory Usage" issue.
Solution 1: Force Close Programs that Uses Excessive RAM
Step 1: In order to do so, open 'Task Manager' on your desktop by simply pressing "CTRL+SHIFT+DELETE" keys together from the keyboard. Or else, you can directly open Google Chrome's built-in Task Manager via pressing "SHIFT+ESC" keys shortcut on Google Chrome's homepage.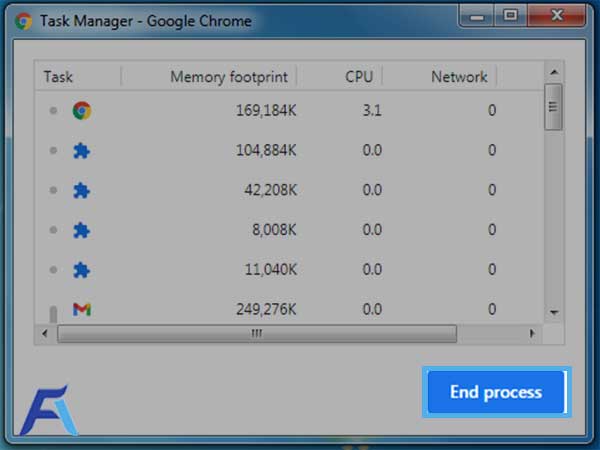 Google Chrome's built-in Task Manager will help you in finding how much space each tab and extension is taking and which one out of all is consuming the most RAM. In fact, by clicking on its 'Memory Column' you can also sort out the extensions and tabs from their highest to lowest memory usage.
Step 2: Now, from the memory column, you can see those extensions and tabs activities that are on top of consuming high RAM right! So, decide and select those Google tabs and extensions that are unnecessarily taking up space to end their process by pressing the 'End Process' button (as shown in above-picture). Additionally, you can also uninstall them either from the toolbar itself or from Chrome's extensions page to see if it helped you or not.
Solution 2: Disable Plugins and Extensions
Whether you know it or not, Plugins and Extensions eat quite a lot of memory power of your browser and thus, disabling them when not in use can be considered as one sort of a solution. And, whenever you need to use them, you can activate them at that particular time only.
Step 1: To disable the add-on plugins or extensions, first reach onto the Chrome's extensions page via 'Settings Menu > More Tools > Extensions.'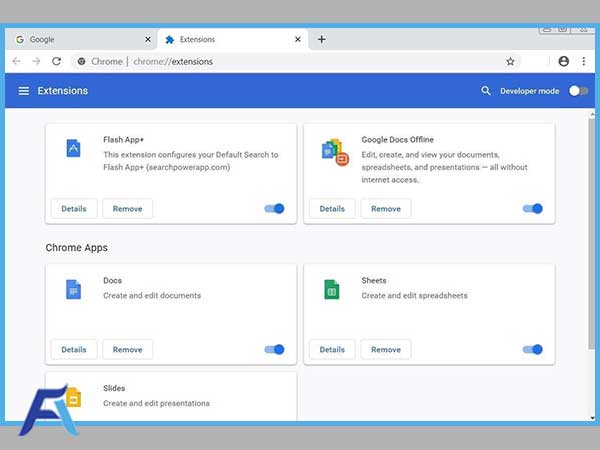 Step 2 : There, on the extensions tab, click on the 'Details' option of the added extension (as you can see in above image). Or else, you can directly click right on the added extension icon which is available there in adjacent to the URL address bar on your browser's homepage. In continuation, select the 'Manage Extensions' option from the contextual menu that appears.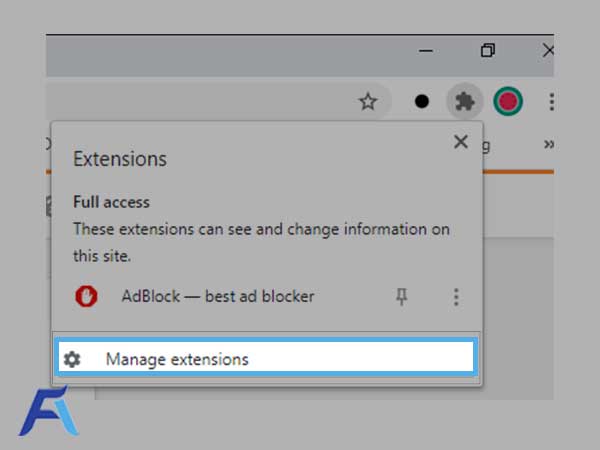 Step 3: Well, no matter what way you use, you'll reach onto the page of that particularly selected added extension. Now, scroll down the page till you locate the 'Site Access' section that contains three options for—"Allow this extension to read and change all your data on websites you visit."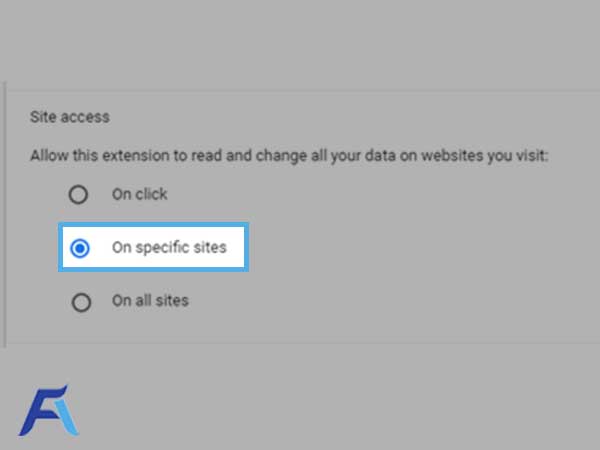 Step 4: Out of them, finally select either the 'On click' or the 'On specific sites' option.
[Note: There are people who consider using a lot of extensions for a variety of purposes. So, if it sounds like you then, it is recommended by many that you can use 'SimpleExt'—an extension manager to well manage them altogether.]
Solution 3: Add Chrome Tab Management Extensions
Similar to what we just said above, there're also a lot of us who can't work without opening a dozen tabs together. So, if you belong to this particular group of people then, there are a few extensions that can help in your case.
Well, you must be questioning about what we've just written after knowing how they can affect memory usage of your browser. But, yes contrary to what common sense would suggest, installing some cool extensions like "The Great Suspender" can actually play a significant role to curb your tabs from using high RAM usage.
To be precise, if you've a habit of keeping all your tabs open with the intention of coming back to them later then, this aforementioned extension will suspend tabs to reduce their memory usage after noticing that they've been inactive for a certain amount of time.
However, they'll still be open in your browser but it's just that when you return to them, they might take a little longer to load again. So, this way despite being open, none of your tabs will be able to consume high memory and thus, in turn, proves to be helpful.
Moreover, there are also few other extensions that are as popular as the one we've just discussed. Like "The Great Suspender" there's this "OneTab" extension that performs the same function but in a different manner. Basically, after installing this extension, you can click its 'OneTab button' to shut down or suspend those groups of tabs that you're sure of not using until later. Well, don't worry you don't have to make extra efforts in opening them again because it will provide you with links of all those respective tabs in one single tab.
So, whenever you feel like using any of the tabs from those groups, you can open that single tab and just click on the link, that's it!
Solution 4: Enable Hardware Acceleration
Step 1: To enable Hardware Acceleration, launch your Chrome browser and open its 'Settings' by clicking on its three-dot icon from the homepage's top-right corner.
Step 2: There on the settings page, scroll down to the 'Advanced' section and click on it to expand the same.
Step 3: Then, in its 'System' section, what you've to do is turn on the toggle switch for the option that reads—'Use hardware acceleration when available.'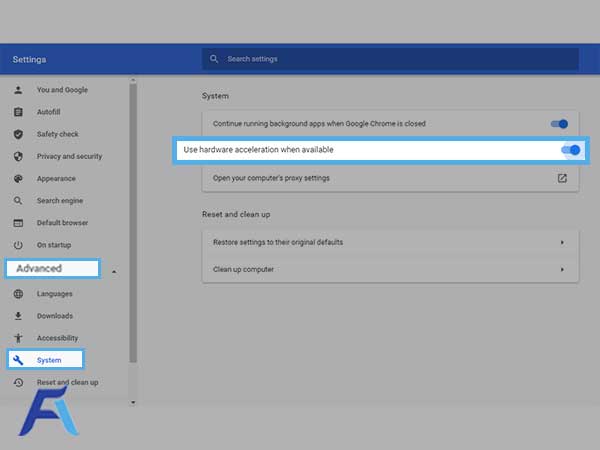 Step 4: Once you're done doing so, give a quick restart to your Google Chrome browser and in continuation, type "chrome: //gpu/" in its URL address bar, hit the 'Enter' button to check whether Hardware Acceleration or GPU Rendering has been enabled or not.
Solution 5: Create a New User Profile for Google Chrome
| | |
| --- | --- |
| Step 1: | A new user profile for your Google Chrome browser can also prove to be a helping hand in preventing Chrome from using so much memory. So, to do so, click on the 'Task Manager' option from Chrome Setting menu and just end all the Google Chrome processes. |
| Step 2: | Then, navigate to this location "Then go to C:\Users\<username>\AppData\Local\Google\Chrome\User Data\Default" in Explorer. |
| Step 3: | There, choose all the available files simply by pressing 'CTRL+A' keys shortcut. |
| Step 4: | After selecting them, press 'Shift + Del' keys shortcut to permanently delete all the selected files. |
| Step 5: | In the end just quickly restart your Google Chrome browser and create a new user profile to ensure whether the issue gets resolved or not. |
Solution 6: Run an Antivirus Scan for Malware
Last but not least, attack of any sort of malware, adware, or virus on your device can also lead to a lot of unwanted issues and problems including the one we're currently discussing here. So, consider it as a thumb rule to run an antivirus scan whenever you face any such issues within your respective device. In doing so, if your installed antivirus program detects harmful virus, malware or adware then, make sure you put your antivirus software at work until and unless it removes it completely from your device. Then, check whether this action helps you in reducing your Google Chrome high memory usage or not.
Well, that's all! This is all about the reasons why Google Chrome uses so much memory usage and its related top-6 effective solutions that you can play along with. Basically, you've to figure-out yourself which solution will work best in your favor and for that you can try them one by one until the issue of "High Memory Usage by Google Chrome" fixes. But, you've to acknowledge that, to make Chrome use less memory you need to make some sacrifices be it uninstalling extensions, closing tabs or if none works then, buying RAM to finally get rid of this discussed issue.
Also Read- Classification of Cloud Computing